Tag: Laguna Seca
Showing 1 - 3

By FTR on July 25, 2012 6:37 PM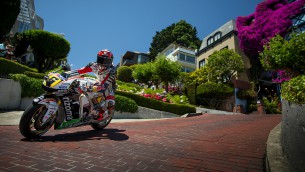 LCR Honda MotoGP's Stefan Bradl took to San Francisco's infamous Lombard Street and Treasure Island with his Honda RC213V yesterday as he prepared for the upcoming Red Bull U.S. Grad Prix at Laguna Seca this weekend.
As part of a Red Bull promotional video, the German rookie delighted crowds in true MotoGP fashion, as he wheeled his way around Treasure Island, before bringing a hefty exhaust note to the usually quaint Californian town, winding his way down twisty Lombard Street, much like he will at "The Corkscrew" come Friday.
Later in the afternoon he was joined by LCR team owner Lucio Cecchinello to take part in a conference held at the prestigious Stanford University, labelled "Embracing Risk in the Pursuit of Victory". It was a discussion about the balance between embracing risk and protection for safety, highlighting the advancements made by man and machine in one of the fastest forms of motorsports. Watch the full video of the discussion and view photos from the event on Google+ Hangout.
SOURCE: http://www.motogp.com/en/news/2012/Bradl+San+Francisco+preevent
By FTR on July 30, 2011 9:32 PM
2011 XDL Freestyle Sportbike
Graves Stunt Rider Bill Dixon had his work cut out for him going into Round 4 of the XDL Championship Series in Monterey, Calif. on July 22-23.
In addition to his XDL competition duties, Dixon also had four stunt shows to perform at the Red Bull U.S. Grand Prix at Mazda Raceway Laguna Seca. To make things even more interesting, Dixon had to drive a massive 40 hours from a show in Pennsylvania to Monterey. Probably not the best way to prep for a competition!
Ahead by nine points in the FMF Cup but trailing by four points overall going into Round 4, Dixon was more determined than ever to win at Monterey. A win at Monterey and Indy's Round 5 would mean becoming the first ever three-time national champion.
As the world's top freestyle riders descended on Monterey for the six different XDL classes, Dixon feared his intense concentration on the dangerous and pressure-filled task at hand would be compromised by his stunt show performances that same weekend. In the end, he had nothing to worry about. "I ended up having so much fun at the stunt shows that I think the positive energy from the shows gave me a confidence boost for XDL!" exclaimed Dixon.
Dixon and his Graves Yamaha R6 qualified in first place for the FMF Cup. "Going into the last round I was nine points ahead, so I just went out and landed my big hit tricks to finish off the competition for a first place finish," said Dixon of his stellar weekend.
His winning didn't stop there. After calling his shot in K&N Circle Challenge earlier in the day on the Versus show Inside XDL, Dixon stomped the competition and came out with another first place. By the end of the weekend Dixon trailed the overall points leader by a mere two points.
The pressure is on more than ever now heading into Round 5 at Indianapolis. Come out to the Indiana War Memorial in downtown Indianapolis on August 26 - 27 to see if Bill Dixon can accomplish his dream of becoming a three-time national champion!
Also, check out this video feature Bill Dixon's first hand perspective from the Yamaha marketplace at Laguna Seca.
By FTR on July 13, 2011 4:14 PM
Electric superbike manufacturer eCRP has just launched Next Gen Superbike where you can tell them exactly how you'd like your electric motorcycle. Specific iPhone apps? Plenty of Chrome? Perhaps a Flux Capacitor? Whatever it is, they want your specific input on ideas for accessories to make your electric riding experience even better. When I visited their factory in Italy, they told me how they'd like to have a GPS map of charging stations in the Alps, to make one's Sunday ride last longer. More on that here.


Luckily for them I am undoubtedly a "Motorcycle Junkie" because I'm certainly no "Gentleman Rider" and neither is racer Shelina Moreda, below. She will pilot the eCRP 1.4 at the Laguna Seca round of the TTXGP July 24th. I'm really looking forward to this race, and from the buzz I'm hearing, it sounds like all the electric bike manufacturers will really show up for this one. Below, you can see Shelina leaving the boys in her dust on her gas bike. On the 24th, we'll be rooting for her to podium in the TTX75 race.


Photo Courtesy of Jules Cisek | popmonkey.com
Source: http://gas2.org/2011/07/13/ecrp-wants-your-help-designing-an-electric-superbike/
Showing 1 - 3

Tags
2-Stroke
·
2011
·
2012
·
2012 Dakar
·
250
·
450
·
Acquisition
·
AMA
·
AMA National Enduro
·
AMA Pro Motocross
·
AMA Pro Supercross
·
AMA Superbike
·
AMA Supercross
·
Aprilia
·
Arizona
·
ATV
·
Auction
·
AZ Bike Week
·
Bike Rally
·
Bike Show
·
Biker
·
Biketoberfest
·
Bill Dixon
·
BMW
·
Burnout
·
Casey Stoner
·
Celebrities who Ride
·
Chad Reed
·
Classic
·
Colorado
·
Concept
·
Contest
·
Crash
·
Crotch Rocket
·
Custom
·
Daytona
·
DIY
·
DOT
·
Ducati
·
Electric Motorcycle
·
Eli Tomac
·
Europe
·
Events
·
Final Results
·
France
·
FTR
·
Fundraiser
·
Fundrasier
·
Funny
·
Glamis
·
GoPro
·
Grindingstone MX Park
·
Hangtown
·
Harley Davidson
·
Hoka Hey
·
Honda
·
Humor
·
Husqvarna
·
Ian Trettel
·
Ice
·
Illegal
·
Indian
·
Indianapolis
·
injury
·
Injury Report
·
ISDE
·
Ivan Tedesco
·
James Stewart
·
Justin Barcia
·
Kawasaki
·
Ken Block
·
Kids OHVs
·
KTM
·
Laguna Seca
·
Lake Havasu
·
Lane Splitting
·
Larry Pegram
·
Las Vegas
·
Law Tigers
·
License Plate
·
Los Angeles
·
Minnesota
·
Monster
·
Monster Energy Cup
·
Moto GP
·
Moto Guzzi
·
Motocross
·
Motocross of Nations
·
Motocross School
·
MotoGP
·
Motorcycle Art
·
Motorcycle Chase
·
Motorcycle Laws
·
Motorcycle news
·
Motorcycle Racing
·
Motorcycle Safety
·
Motorcycle Shows
·
Motorcycles
·
Movie-star Motorcycle riders
·
MV Agusta
·
News
·
Nicky Hayden
·
Nitro Circus
·
Oakland
·
Orange County Choppers
·
Photos
·
Playboy Playmates
·
Polaris
·
Police
·
Press Release
·
Pro Supercross
·
Product Review
·
Product Reviews
·
Promo Models
·
R1
·
Race Results
·
Race Schedule
·
Racing
·
Racing News
·
Racing Results
·
Rally Racing
·
Recall
·
Recalls
·
Ricky Carmichael
·
Riders
·
Rocky Point Bike Rally
·
Ryan Dungen
·
Ryan Dungey
·
Ryan Villopoto
·
Safety
·
San Diego
·
Sand Dunes
·
Season Standings
·
Seattle
·
Sex
·
Southwest
·
Southwick
·
Sportbike
·
Sportbikes
·
Spring Creek
·
St. Louis
·
Stoppie
·
Stunt
·
Stunt video
·
Stuntbike
·
Sturgis
·
Sturgis 2012
·
Superbike
·
Supercross
·
Suzuki
·
Team USA
·
Travis Pastrana
·
Trey Canard
·
TV
·
Unadilla
·
Victory
·
Victory Motorcycles
·
Video
·
Wheelie
·
WMX
·
Women Riders
·
World Record
·
World Superbike
·
XDL
·
Yamaha
·
Categories
AMA Superbike
AZ Biker Info
Drag Racing
Event Postings
Friends That Ride
Grease Monkey
Humor, Jokes, Comics etc
Law Tigers
Motocross
MotoGP
Motorcycle News
Motorcycle Videos
Product Reviews
Quaker Steak and Lube
Sportbike
Stuntbike
Supercross
Top Photographers
Vickery Motorsports
Videos
World Superbike