By petemaster5000 on November 09, 2012 1:27 AM
FORMER world Moto GP champion Casey Stoner says he is ready to settle down to a new life at home after "losing respect" for the sport in a magazine interview published yesterday.
The Australian, who won two world titles in motorcycling's most prestigious category in 2007 and 2011, shocked the sport earlier this year when he announced his decision to retire at the end of the season.
A week after winning at the Phillip Island circuit where Spain's Jorge Lorenzo secured the 2012 title, Stoner is looking forward to the simple things in life like helping his wife and daughter with the chores.
And although the 27-year-old says he could keep one eye on the racing, he does not agree with the direction the sport has taken.
"The problem is not my passion, it's the passion which is missing on the circuit (championship), the one I found as a kid and which made me commit to the sport all these years," Stoner told www.panorama.it.
"There are many reasons why I'm quitting - one day I will explain everything."
Stoner earlier this season complained of slower speeds on some circuits and said in an interview with Australian Motorcycle News he would prefer a return to a purer form of racing from the 500cc days.
He added in the panorama interview: "If I had to say in a few words, I'd say I've lost my respect for the championship and I don't really agree with the direction it has taken."
Asked if he would ever change his mind, Stoner said: "Never say never, but I don't think so. The championship would have to undergo radical changes.
"And I don't make decisions so easily. I'm very thoughtful and when I make a decision I usually stick to it."
Stoner's farewell race will be this Sunday in Valencia, when he will wave goodbye to a career which began at a young age in Queensland and led him to move to the United Kingdom to pursue his dream.
Although only 27-years-old, Stoner says he is happy to replace the hustle and bustle of the sport, including the stress of travelling, to spend more time with his wife and daughter Alessandra Maria.
"They are my life and from next week I can finally give them all the time they deserve," he said.
"I've not made plans. I don't know if we will remain in Switzerland (where he lives) or in Australia. But I will easily give up the stress of travelling.
"And lending a hand with the chores is not something that scares me."
http://www.news.com.au/sport/motor-sport/moto-gp-lost-my-respect-says-casey-stoner/story-fne8930l-1226513383371
By FTR on July 25, 2012 6:37 PM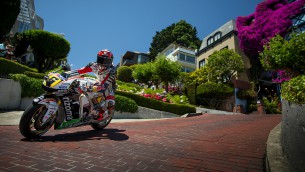 LCR Honda MotoGP's Stefan Bradl took to San Francisco's infamous Lombard Street and Treasure Island with his Honda RC213V yesterday as he prepared for the upcoming Red Bull U.S. Grad Prix at Laguna Seca this weekend.
As part of a Red Bull promotional video, the German rookie delighted crowds in true MotoGP fashion, as he wheeled his way around Treasure Island, before bringing a hefty exhaust note to the usually quaint Californian town, winding his way down twisty Lombard Street, much like he will at "The Corkscrew" come Friday.
Later in the afternoon he was joined by LCR team owner Lucio Cecchinello to take part in a conference held at the prestigious Stanford University, labelled "Embracing Risk in the Pursuit of Victory". It was a discussion about the balance between embracing risk and protection for safety, highlighting the advancements made by man and machine in one of the fastest forms of motorsports. Watch the full video of the discussion and view photos from the event on Google+ Hangout.
SOURCE: http://www.motogp.com/en/news/2012/Bradl+San+Francisco+preevent
By cpFTR9 on June 18, 2012 3:47 PM
MotoGP Silverstone Results 2012
By Byron Wilson for Motorcycle-usa.com
Sunday, June 17, 2012
Dry, sunny conditions for the 20-lap British GP were a welcome change from the rain MotoGP riders faced earlier in the week at Silverstone. Yamaha Factory Racing's Jorge Lorenzo earned his third successive MotoGP win after taking the checkers in Round 6. Repsol Honda's Casey Stoner followed over three seconds behind in second-place and Stoner's teammate Dani Pedrosa took third. Pole position starter Alvaro Bautista of San Carlo Honda Gresini took fourth and Lorenzo's teammate Ben Spies rounded out the top five.

"Today was a very difficult race, the front guys were very strong and very fast so it was very hard for me to catch them and stay with them," Lorenzo explained. "When I caught Casey we had a wonderful fight, luckily for us I had a better pace and I passed him. Four laps from the end I made a big mistake and almost crashed! I'm very happy with the result, and for the team who gave me a good bike again."

The battle for lead position was intense during the opening laps of the Grand Prix. Spies came out of the start in first and maintained out front through the first four laps with Stoner, Bautista, Lorenzo, Monster Yamaha Tech 3's Andrea Dovizioso and Pedrosa in tow. The Texan fell back through the course of the race as Lorenzo and Pedrosa advanced but scored his best finish so far this season in fifth. The five riders remained within seconds of one another, though it was Bautista and the Repsol Honda riders who were able to keep pace for a shot at the podium with Lorenzo in the final laps. Dovi was in position to contend as well, but crashed mid-race and had to pit. He returned once the bike was repaired and finished in 19th.

Stoner held the lead for six laps, but Lorenzo's ride was nearly faultless. Once the points leader got ahead of Stoner, there was no catching him. A slight wobble through a turn late in the race was the only time Lorenzo allowed Stoner to make up ground, but it was not nearly enough for the Australian rider to contend again for the lead.

"It wasn't a great race for us today, we saw the pace the Yamaha's had in the early laps and it was really worrying to me," said Stoner. "As early as lap three the bike wasn't feeling good, especially on the left side, the tire destroyed itself almost immediately. My plan was to try and get to the front and hold them up but Ben [Spies] was proving difficult to pass, then he made a small mistake and I was able to slip through and I tried to hold it from there. Today we needed a little more grip and we would have been able to fight for the win but looking at the rear tires at the end of the race, there was definitely something wrong with ours."

Pedrosa also commented on his finish, the new tires and Lorenzo's blistering pace: "I tried to overtake him [Stoner] but I had a flash in my mind and I saw both Repsol Honda's on the ground, so I settled for third place. It's positive to both be on the podium if we consider that it's the first race for the team with this new front tire, but for the championship it is not good. We need to make a step forward to solve the problems we have with the chattering because right now, Jorge [Lorenzo] is too strong for the Honda's."

Fourth marks the best finish of the year for Bautista, who also earned his first ever MotoGP pole-position earlier in the weekend. "It has been a great weekend and it has confirmed the progress we have made since Catalunya. I am so happy to finish so close to the podium. Maybe I could have attacked for third at the end but it would have been risky and I just wanted to run with them to the end and not make mistakes."
Monster Yamaha Tech 3's Cal Crutchlow also had a stellar race, considering he was unsure whether he'd be cleared to ride at all after his crash in practice on Saturday. The British rider was deemed fit to start and he worked his way up from last-place to sixth by the checkers. "That's a weekend I won't forget in a hurry. Yesterday was a disaster with the crash and I thought I was going to miss my home race again," said Crutchlow. "It was a very tough race but I just had to try and ignore the pain and let the adrenaline and support of the British crowd get me through. When I got by Bradl I could see Nicky was a long way clear, but I just kept on pushing to see what happened. I'm really happy with my lap times because I was as quick as the guys on the podium, even with a broken ankle. So a little part of me can't help but think without the crash yesterday that I could have been on the podium in the British Grand Prix."

Ducati's Nicky Hayden opened the race well, holding to fourth through the opening laps, but slipped back to finish in seventh ahead of LCR Honda's Stefan Bradl and teammate Valentino Rossi in eighth and ninth respectively.

Aleix Espargaro of Power Electronics Aspar led the way among CRT riders in 11th, followed by teammate Randy de Puniet in 12th. Paul Bird Motorsport's James Ellison managed to make the top 15, finishing in 14th and American rider Colin Edwards of NGM Mobile Forward Racing finished the day in 16th.

Lorenzo further extended his points lead, now 35 points ahead of Stoner in second. Pedrosa, in third, is the only other rider above 100 points, with Crutchlow the closest in fourth at just 66.
MotoGP Silverstone Results 2012:
1. Jorge Lorenzo (Yamaha)
2. Casey Stoner (Honda)
3. Dani Pedrosa (Honda)
4. Alvarto Bautista (Honda)
5. Ben Spies (Yamaha)
6. Cal Crutchlow (Yamaha)
7. Nicky Hayden (Ducati)
8. Stefan Bradl (Honda)
9. Valentino Rossi (Ducati)
10. Hector Barbera (Ducati)
11. Aleix Espargaro (ART)
12. Randy de Puniet (ART)
13. Michele Pirro (FTR)
14. James Ellison (ART)
15. Yonny Hernandez (BQR)
16. Colin Edwards (Suter)
17. Danilo Petrucci (Ioda)
18. Ivan Silva (BQR)
19. Andrea Dovizioso (Yamaha)

2012 MotoGP Championship Points:
1. Jorge Lorenzo, 140
2. Casey Stoner, 115
3. Dani Pedrosa, 101
4. Cal Crutchlow, 66
5. Andrea Dovizioso, 60
6. Valentino Rossi, 58
7. Alvaro Bautista, 58
8. Stefan Bradl, 51
9. Nicky Hayden, 49
10. Hector Barbera, 37
Source: Motorcycle-usa.com
By cpFTR9 on June 16, 2012 8:28 PM
MotoGP Silverstone Qualifying 2012
by Bryon Wilson for Motorcycle-usa.com
Black clouds at Silverstone caused no small amount of anxiety among teams in Round 6 MotoGP qualifying on Saturday. Spots of rain began to fall with nine minutes remaining in the session and soon after caution flags were flown and riders began to pit. At that point, San Carlo Honda's Gresini's Alvaro Bautista was out front and in the end held strong at the top of the timesheet, earning the first MotoGP pole position of his career. Yamaha Factory Racing's Ben Spies qualified second followed by Repsol Honda's Casey Stoner rounding out the front row. Though caution flags were shown before the official end, the session was not cancelled and most riders returned to the track in the final minutes.

"The conditions today were strange and difficult but we managed to find a good setting, I was up front for the whole session and set my fastest lap on my own," said Bautista. "I'm really happy for myself and also pleased for the team."

Track conditions were made all the more concerning after the morning's practice session where Tech 3 Yamaha's Cal Crutchlow lost his front end and went down. The British rider suffered an injury to his ankle and was taken to Northampton General Hospital after the incident. He was unable to participate in the qualifying session and thus marks the second consecutive year that Crutchlow has sustained injury at his home Silverstone round.

Spies managed the conditions well though and even held the fastest time for a period during the session. "It was difficult conditions today again, like yesterday but it was the same for everybody. We tried our hardest, I'm happy for the team as they gave me a great bike and we set our best time with the hard rear tyre.When I put the soft one on we were a couple of tenths up then I made a mistake and hit the curb, I had a good lap going but messed it up. I'm just happy to be on the front row and working well with the team, let's see what tomorrow brings."

Like Crutchlow, Spies also went down last year at the British circuit as did teammate Jorge Lorenzo, forcing both Yamaha riders to pull out of the Grand Prix mid-race. Spies hasn't found much to smile about yet this year either, failing to come near a podium in the first five races and beset by all manner of misfortune. Lorenzo, on the other hand, currently leads in championship points and has three wins to his credit through five rounds. The Spaniard heads up the second row with the fourth-fastest time in qualifying.

Behind Lorenzo is Repsol Honda's Dani Pedrosa in fifth and Pramac Racing's Hector Barbera in sixth. Ducati's Nicky Hayden leads the third row and Monster Yamaha Tech 3's Andrea Dovizioso held to eighth. LCR Honda's Stefan Bradl rounds out the third row with Ducati's Valentino Rossi in tenth.
Both Rossi and Hayden went down during qualifying at Vale corner. Both riders were able to walk away from the separate incidents, but there will no doubt be work to do before the race on Sunday.

Power Electronics Aspar's Aleix Espargaro once again posted the fastest time among CRT riders, coming in 11th ahead of teammate Randy de Puniet in 12th. NGM Mobile Forward Racing's Colin Edwards will start Sunday's race from 15th on the grid.

Weather will continue to be a major issue going into Sunday's Grand Prix. Silverstone is the largest track on the GP schedule this year and as such can be wet in one segment and dry in another. During qualifying, the rain clouds had moved in over the start/finish while patches of blue sky were visible from other sections of the track.

MotoGP Silverstone Qualifying Results 2012:
1. Alvaro Bautista (Honda) 2'03.303
2. Ben Spies (Yamaha) 2'03.409
3. Casey Stoner (Honda) 2'03.423
4. Jorge Lorenzo (Yamaha) 2'03.763
5. Dani Pedrosa (Honda) 2'03.835
6. Hector Barbera (Ducati) 2'03.876
7. Nicky Hayden (Ducati) 2'04.162
8. Andrea Dovizioso (Yamaha) 2'04.304
9. Stefan Bradl (Honda) 2'05.035
10. Valentino Rossi (Ducati) 2'05.416
11. Aleix Espargaro (ART) 2'06.283
12. Randy De Puniet (ART) 2'06.303
13. Yonny Hernandez (BQR) 2'06.814
14. Michele Pirro (FTR) 2'07.016
15. Colin Edwards (Suter) 2'07.376
16. Mattia Pasini (ART) 2'07.511
17. James Ellison (ART) 2'08.228
18. Danilo Petrucci (Ioda) 2'08.686
19. Ivan Silva (BQR) 2'10.092
Source: Motorcycle-usa.com
By cpFTR9 on June 15, 2012 5:15 PM
MOTOGP Silverstone Friday Results 2012
by Bryon Wilson for Motorcycle-usa.com
Source: Motorcycle-usa.com
MotoGP Round 6 kicked-off at Silverstone on Friday in the cold and wet conditions that have proven favorable to Ducati's Valentino Rossi. The Doctor topped the timesheet in Free Practice 1 just 0.077 ahead of teammate Nicky Hayden. Monster Yamaha Tech 3's Andrea Dovizioso held to third fastest and Repsol Honda's Casey Stoner took fourth. Current points leader Jorge Lorenzo of Yamaha Factory Racing posted the eighth-fastest time, over three seconds off Rossi's 2:19.328.

Lorenzo's teammate Ben Spies, already wracked by ill fortune this season, went down late into FP1 and was taken to the medical center to check on his wrist. Spies suffered a similar fate in the GP at Silverstone last year. San Carlo Honda Gresini's Alvaro Bautista followed Spies' lead soon after, going down on the same right-hand turn. Both riders were well enough to walk away from the incidents and both were able to return to post times in FP2.

Conditions improved enormously as the day wore on and the track was declared dry for FP2. Stoner led the way with the fastest lap of the day, shaving nearly 16 seconds off his time to take provisional pole position. Spies was able to return after his earlier crash and post the second-fastest time, just 0.034 off Stoner. Bautista also came to FP2 unfazed by his previous misfortune and logged the third-fastest time. Ducati's Nicky Hayden managed to remain on the provisional front row, coming in fourth place though teammate Rossi didn't fare as well, falling to 11th even though he was able to cut over 12 seconds off his FP1 lap-time.
LCR Honda's Stefan Bradl heads up the provisional second-row in fifth followed by Doviziozo in sixth, Lorenzo and Tech 3's Cal Crutchlow in seventh and eighth respectively. Stoner's teammate Dani Pedrosa grabbed ninth and Pramac Racing's Hector Barbera rounds out the top 10. The top eight riders were all within one second of Stoner's lead time in FP2, a drastic change from FP1 where there was almost four seconds difference between the lead and eighth place.

Power Electronics Aspar's Randy De Puniet led the CRT field in 12th followed by Michele Pirro of San Carlo Honda Gresini in 13th and Speed Master's Mattia Pasini in 14th. American rider Colin Edwards of NGM Mobile Forward Racing was just one position short of last place, coming in 19th overall. Cardion AB Motoracing's Karel Abraham will not race Silverstone due to injuries he sustained during the Aragon test after last round at Catalunya.

2012 MotoGP Silverstone Combined Free Practice Times:
1. Casey Stoner (Honda) 2'04.791
2. Ben Spies (Yamaha) 2'04.825
3. Alvaro Bautista (Honda) 2'04.995
4. Nicky Hayden (Ducati) 2'05.353
5. Stefan Bradl (Honda) 2'05.391
6. Andrea Dovizioso (Yamaha) 2'05.448
7. Jorge Lorenzo (Yamaha) 2'05.488
8. Cal Crutchlow (Yamaha) 2'05.574
9. Dani Pedrosa (Honda) 2'05.886
10. Hector Barbera (Ducati) 2'06.084
11. Valentino Rossi (Ducati) 2'07.125
12. Randy De Puniet (ART) 2'07.893
13. Michele Pirro (FTR) 2'08.535
14. Mattia Pasini (ART) 2'08.975
15. Yonny Hernandez (BQR) 2'09.078
16. Aleix Espargaro (ART) 2'09.379
17. James Ellison (ART) 2'09.944
18. Danilo Petrucci (Ioda) 2'11.325
19. Colin Edwards (Suter) 2'11.600
20. Ivan Silva (BQR) 2'12.737
Source: Motorcycle-usa.com
By cpFTR9 on May 29, 2012 7:47 PM
BT w/ultimatemotorcycling.com
5/29/12
2012 MotoGP
The technical layout of the Circuit de Catalunya, the venue for round five of the 2012 MotoGP World Championship, is one of the toughest on the calendar for Bridgestone's MotoGP tires. But the Spanish circuit has produced many memorable races over the years.
Unlike the last round at Le Mans, Catalunya is a fast circuit with an array of right-hand corners that are taken at high speed and large lean angles and as a result, the circuit places greater stress on the right shoulder of the rear tire than any other course on the calendar.
The intense forces imposed on the right shoulder of the rear tire at this circuit means Bridgestone will provide asymmetric rear slicks with rubber compounds two steps harder on the right shoulder than on the left for this race.
At the front of the bike, the numerous hard braking zones require a tire with good braking stability, so the medium and hard compound front slick tires will be available to riders and in case there are unusually cool conditions, the soft front slick tire will also be available to ensure maximum rider safety.
Due to the generally high energy levels placed on tyres at Catalunya, the main wet tire for this weekend will be the hard compound.
For Catalunya, Bridgestone will offer riders two of the new specification front slick tire in the hard compound and this weekend's race marks the last event where limited supply of this tire will be provided as from the next round at Silverstone, the new specification slick tire will become the standard offering and will make up the whole front slick tire allocation.
Hiroshi Yamada (Manager, Bridgestone Motorsport Department) says: "I have many good memories of the Catalunya Grand Prix as it has hosted many exciting battles in the past and the crowd is always extremely passionate. This circuit is particularly hard on the right shoulder of the rear tires, but I am very confident that our 2012 specification tires are more than up to the challenge. I would also like to welcome back Colin Edwards who will be back on his bike after missing Le Mans through injury.
"Catalunya will be the last time we offer just two of the new specification front slick tires to riders as this specification will become the standard front slick tire from Silverstone onwards. In what will be a busy week for Bridgestone, we will be supporting a post-race test on Monday at the Circuit de Catalunya and also the test scheduled for next Wednesday at Aragon which was organized as a replacement for the Estoril test after it was cancelled due to wet weather."

Shinji Aoki (Manager, Bridgestone Motorsport Tire Development Department) says: "Catalunya is one of the most technical circuits on the calendar and is a high-speed track featuring eight right-hand and five left-hand corners that combine to generate significant loads on Bridgestone's MotoGP tires.
"The right-hand turns on this circuit are generally fast and create very high temperatures on the right shoulder of the rear tires, while the left-handers are slow, resulting in a considerable imbalance in the forces sustained across the rear tire.
For this reason, asymmetric rear tires are a must at the Circuit de Catalunya with the rubber compound used on the right shoulder being two grades harder than that on the left. Additionally, there are numerous hard braking zones at this circuit - particularly at the end of the two straights - and this places considerable stress on the front tires as well. Overall, the distinctive layout of the Catalunya circuit makes it one of the toughest events on the calendar for tires."
Source: ultimatemotorcycling.com
By cpFTR9 on May 23, 2012 3:29 PM
Scott Mathews
Contributing Editor for Motorcycle-usa.com Source: Motorcycle-usa.com
Monday, May 21, 2012
"I've lost the passion for MotoGP"

Reigning world champion Casey Stoner shocked the MotoGP paddock by announcing he will retire at the end of 2012. The Australian said he's lost his passion and love for racing at a time when the Repsol Honda rider is arguably at the peak of his career.

Disillusioned with constant rule changes, weary of criticism that he was a prolific crasher and rumors that the lactose intolerance issue he first suffered in 2009 was grossly overplayed were all contributing reasons for his shock decision, said the Repsol Honda rider.

Stoner confirmed his decision to quit during the pre-event press conference in Le Mans; an announcement that left rivals Valentino Rossi and Jorge Lorenzo stunned and the assembled media shell-shocked.

Rumors of Stoner's intention to retire first surfaced during the Estoril MotoGP round in Portugal earlier this month. He played down reports and said he was still in discussion with HRC about his future, with Honda management desperately trying to convince him to stay after he handed the Japanese factory its first MotoGP crown since 2006 last season. This reporter understands that Stoner was offered almost double his current salary to remain in MotoGP having started the 2012 season with third in Qatar, followed by brilliant victories in Jerez and Estoril.

But Stoner, who won his first MotoGP title with Ducati in 2007 and has won 35 premier class races, said: "This has come after a long time thinking, a lot of time talking with my family and my wife (Adriana), this has been coming for a couple of years now but at the end of this 2012 season I will not be racing in the 2013 championship. I will be finishing my career at the end of this season in MotoGP, and go forward with different things in my life. After so many years of doing this sport which I love, and which myself and my family have made so many sacrifices for, after so many years of trying to get to where we have gotten to at this point, this sport has changed a lot and it has changed to the point where I am not enjoying it. I don't have the passion for it and so at this time it's better if I retire now. There are a lot of things that have disappointed me, and also a lot of things I have loved about this sport, but unfortunately the balance has gone in the wrong direction. And so we won't be continuing any more. It would be nice if I could say I would stay one more year, but then when does it stop? So we decided to finish everything as we are now."
Asked to elaborate on the reasons for his decision, he denied the birth of his first child Alessandra in February had been a pivotal factor. The dumbing down of rules to let tweaked 1000cc production engines to race in MotoGP was a factor, further removing the series away from its prototype ethos.

"I've been watching this championship a long time and it is very easy to see what works and what doesn't. This championship and everything I've done to get here has been a huge dream of mine and then to realize a lot of things, whether it's people having no faith in you or people not believing in your talent or the changes that have happened to the championship. 2009 was big eye-opener to me, everyone still until this day says it was a mystery illness, the fact that no one understands that I have a lactose intolerance, which is really critical, it just takes all my energy and stops me from absorbing nutrients. No one listened to me on that. Many things over time have taken their toll. The direction I see the championship heading and the fact that in 2009 I realized what was important and that's family and happiness. Money isn't everything. I think that I am one of the few riders who can actually say they have retired when they have stopped enjoying it. My passion has slowly ebbed away from this championship. It is not the championship I fell in love with. It is not the championship I always wanted to race in. This is a MotoGP championship, this is a prototype championship. People can talk about the past with it starting as standard machines and progressed to prototype machines, now we are taking the opposite step and going backwards. There are many, many different reasons, but it is basically me losing my passion for the racing and my enjoyment of this sport. For sure I will enjoy it this year but for sure if I continued it would only be a mistake on my behalf. It wouldn't be correct to Honda and my team if I didn't give 110%. I've loved bikes, this is my whole life and if I keep doing it I'm afraid I'm going to lose my passion and not want to go near a bike for the next 10 years, and that would scare me, "said Stoner.

Rossi and Lorenzo shocked at Stoner's Retirement Plans

Valentino Rossi and Jorge Lorenzo – two of the biggest rivals in Casey Stoner's career – have spoken of their shock at the Australian's decision to retire from MotoGP at the end of the 2012 world championship campaign. Rossi and Lorenzo flanked Stoner in the Le Mans press conference announcing his decision, and both were visibly shocked when he said that he will quit racing at the age of 27.

Factory Ducati rider Rossi, who has had several on and off track clashes with Stoner since 2006, said: "It is a big surprise for me but also for everybody. It is bad news for the MotoGP world because at the end of the season we will lose one great rider and one great rival. It is negative but it is his decision."

Lorenzo said: "I think it is a surprise for me and for everyone and I didn't expect it. I heard the rumors and while it was a possibility I thought Casey would continue riding next year. He has made this decision and it is not good news for MotoGP but his decision is to live quietly with his family and we must respect this."
Source: Motorcycle-usa.com
By FTR on April 30, 2012 5:38 PM
Reigning world champion Casey Stoner eased doubts over his endurance levels with an assured victory in the Spanish Grand Prix at Jerez on Sunday.
After being denied victory at the season-opener at Qatar due to a muscular problem in his arm, Stoner showed he has the stamina to go the distance as he powered through from fifth on the grid to take victory for Repsol Honda.
Qatar winner Jorge Lorenzo was second for Yamaha to preserve his championship lead, while Stoner's team-mate Dani Pedrosa took third place.
SOURCE: http://www.dailymail.co.uk/sport/othersports/article-2136955/Casey-Stoner-wins-Spanish-Moto-GP.html?ito=feeds-newsxml
By FTR on April 28, 2012 7:17 PM
Spain's 2010 world champion Jorge Lorenzo recorded his 46th career pole position on Saturday when he posted the fastest time in qualifying for the Spanish MotoGP.
The Yamaha rider, who won the season-opening Qatar MotoGP, pipped compatriot Dani Pedrosa on a Honda while the 2006 world champion Nicky Hayden of the United States was third fastest on a Ducati.
Englishman Cal Crutchlow caught the eye as he recovered from a spectacular crash to record the fourth fastest time ahead of defending world champion Casey Stoner of Australia.
Lorenzo's tally of 46 pole positions includes 20 in MotoGP.
"We are very happy with this pole position because it was a strange session. There were a lot of water patches and it was very dangerous," said Lorenzo.
"You had to pay a lot of attention, it would have been easy to crash and get injured.
"Anyway we start in first position so let's see what happens in the race. Thank you to the team for working hard to keep giving the right set up in changing conditions."
Lorenzo and Pedrosa swapped fastest times throughout a thrilling duel on Saturday and were the only two riders to go under 1min 40sec and in doing so Lorenzo also bettered Pedrosa's fastest lap time set in 2010.
While Hayden, who recorded his best win of last season here last year when he finished third, shone for the Ducati team his team-mate, Italian legend Valentino Rossi, failed to sparkle and will start 13th on the grid.
By cpFTR9 on April 25, 2012 4:13 PM
Ducati's Rossi & Hayden Ready for Jerez
Sam Sims for Ultimatemotorcycling.com
04/25/2012
2012 MotoGP
The 2012 MotoGP Championship heads to Jerez this weekend for the first of four rounds in Spain. And one team is hoping the winter testing performed at the Jerez circuit will help for better initial setup, and ultimately results - the Ducati Team.
Riders Valentino Rossi and Nicky Hayden have positive results at Jerez, the nine-time World Champion Rossi taking six premier-class wins there, making him the most successful rider at the Spanish circuit, and Hayden five top-five places, including third at a wet 2011 MotoGP.
As for VR46, Rossi was involved in the infamous crash last season between him and Repsol Honda's Casey Stoner, the 2011 MotoGP Champion. Although Rossi crashed on lap 8 last season, the Italian remounted to finish fifth.
Valentino Rossi (Ducati Team GP12 MotoGP) says: "I've always liked the Jerez track a lot, and we certainly must try to do better than in Qatar. By the end of the three-day test in March, we had found a decent setup for the GP12, so we have a base to start from for this track as we prepare the bike for the race. It will be very important to work well during the Friday and Saturday practice sessions, focusing particularly on maintaining a good direction and on taking advantage of what we currently have to work with."
Nicky Hayden (Ducati Team GP12 MotoGP) says: "I really enjoy the Jerez GP. In some ways it's like the first race all over again, because it's a little bit different than Qatar. We're back in Europe, with our trucks and all the crowds. It's also a special track. It's really tough, with very few straightaways, so you have to 'connect the dots' and do some hard braking.
"If you want to do a good lap time, it's important to be fast in those last two right-handers. I'm looking forward to it. We tested there last month, but since then we have a race under our belt and a bit more data to consider. We know the general setup of the bike now. Last year the weather definitely mixed things up a bit, so we'll see what it does this time."
Vittoriano Guareschi (Ducati Team Manager) says: "We're returning to Jerez a month after the winter test there, so we should find very similar conditions. The first race, in Qatar, was very difficult for Valentino, as we didn't find a good setup that would let him feel comfortable on the bike. In Spain, by taking advantage of the work we did there in March, we'll focus on helping him once again find a good feeling.
"Nicky is coming off of two days of testing at Mugello, where he had hoped to make up some of the time lost during winter testing, but bad weather prevented him from doing much. Still, he was able to get to know the bike better at the first round, and he's confident in being able to find a good setup for this track as well."
Jerez MotoGP Records:
Lap Record: Dani Pedrosa (Honda - 2010), 1:39.731, 159.657 Km/h (99.206 mph)
Best Pole: Jorge Lorenzo (Yamaha - 2008), 1:38.189, 162.164 Km/h (100.764 mph)
Track Length: 4.423 km (2.748 mi)
2012 MotoGP Race: 27 laps (119.421 km, 74.205 mi)
2012 MotoGP Race Time: 2:00 p.m. local time
2011 Podium: 1st Jorge Lorenzo, 2nd Dani Pedrosa, 3rd Nicky Hayden
2011 Pole: Casey Stoner (Honda) 1:38.757 - 161.232 Km/h (100.185 mph)
2011 Fastest Lap: (4th lap) Valentino Rossi (Ducati) 1:48.753 - 146.4 Km/h (91.0 mph)
Ducati Team Results at Jerez:
2011: 3rd (Hayden)
2010: 4th (Hayden)
2009: 3rd (Stoner)
2008: 11th (Stoner)
2007: 5th (Stoner)
2006: 1st (Capirossi)
2005: 10th (Checa)
2004: 12th (Capirossi)
2003: 3rd (Bayliss)
Ducati Team: Rider Info:
Valentino Rossi:
Bike: Ducati Team Desmosedici GP12
Race Number: 46
Age: 33 (born in Pesaro, Italy, 16 February 1979)
Residence: Tavullia (Pesaro, Italy)
Number of GPs: 259 (199 x MotoGP/500cc, 30 x 250cc, 30 x 125cc)
First GP: 1996 Malaysian GP (125cc)
Number of Wins: 105 (79 x MotoGP, 14 x 250cc, 12 x 125cc)
First GP Win: 1996 Czech Republic GP (125cc)
Poles: 59 (49 x MotoGP, 5 x 250cc, 5 x 125cc)
First Pole: 1996 Czech Republic GP (125cc)
World Championships: 9 (6 x MotoGP, 1 x 500cc, 1 x 250cc, 1 x 125cc)
Rossi's MotoGP Results at Jerez
2011: Qualifying, 12th; Race, 5th
2010: Qualifying, 4th; Race, 3rd
2009: Qualifying, 4th; Race, 1st
2008: Qualifying, 2nd; Race, 2nd
2007: Qualifying, 2nd; Race, 1st
2006: Qualifying, 9th; Race, 14th
2005: Qualifying, 1st; Race, 1st
2004: Qualifying, 1st; Race, 4th
2003: Qualifying, 5th; Race, 1st
2002: Qualifying, 1st; Race, 1st
2001: Qualifying, 1st, Race, 1st
Nicky Hayden:
Bike: Ducati Team Desmosedici GP12
Race Number: 69
Age: 30 (born in Owensboro, Kentucky, USA, 30 July 1981)
Residence: Owensboro (Kentucky, USA)
Number of GPs: 152 (152 x MotoGP)
First GP: 2003 Japanese GP (MotoGP)
Number of Wins: 3 (3 x MotoGP)
First GP Win: 2005 USA GP (MotoGP)
Poles: 5 (5 x MotoGP)
First Pole: 2005 USA GP (MotoGP)
World Championships: 1 (6 x MotoGP, 2006)
Hayden's MotoGP Results at Jerez
2011: Qualifying, 11th; Race, 3rd
2010: Qualifying, 5th; Race, 4th
2009: Qualifying, 16th; Race, 15th
2008: Qualifying, 3rd; Race, 4th
2007: Qualifying, 11th; Race, 7th
2006: Qualifying, 4th; Race, 3rd
2005: Qualifying, 4th; Race, DNF
2004: Qualifying, 7th; Race, 5th
2003: Qualifying, 19th; Race, DNF
Source: Ultimatemotorcycling.com
Tags
2-Stroke
·
2011
·
2012
·
2012 Dakar
·
250
·
450
·
Acquisition
·
AMA
·
AMA National Enduro
·
AMA Pro Motocross
·
AMA Pro Supercross
·
AMA Superbike
·
AMA Supercross
·
Aprilia
·
Arizona
·
ATV
·
Auction
·
AZ Bike Week
·
Bike Rally
·
Bike Show
·
Biker
·
Biketoberfest
·
Bill Dixon
·
BMW
·
Burnout
·
Casey Stoner
·
Celebrities who Ride
·
Chad Reed
·
Classic
·
Colorado
·
Concept
·
Contest
·
Crash
·
Crotch Rocket
·
Custom
·
Daytona
·
DIY
·
DOT
·
Ducati
·
Electric Motorcycle
·
Eli Tomac
·
Europe
·
Events
·
Final Results
·
France
·
FTR
·
Fundraiser
·
Fundrasier
·
Funny
·
Glamis
·
GoPro
·
Grindingstone MX Park
·
Hangtown
·
Harley Davidson
·
Hoka Hey
·
Honda
·
Humor
·
Husqvarna
·
Ian Trettel
·
Ice
·
Illegal
·
Indian
·
Indianapolis
·
injury
·
Injury Report
·
ISDE
·
Ivan Tedesco
·
James Stewart
·
Justin Barcia
·
Kawasaki
·
Ken Block
·
Kids OHVs
·
KTM
·
Laguna Seca
·
Lake Havasu
·
Lane Splitting
·
Larry Pegram
·
Las Vegas
·
Law Tigers
·
License Plate
·
Los Angeles
·
Minnesota
·
Monster
·
Monster Energy Cup
·
Moto GP
·
Moto Guzzi
·
Motocross
·
Motocross of Nations
·
Motocross School
·
MotoGP
·
Motorcycle Art
·
Motorcycle Chase
·
Motorcycle Laws
·
Motorcycle news
·
Motorcycle Racing
·
Motorcycle Safety
·
Motorcycle Shows
·
Motorcycles
·
Movie-star Motorcycle riders
·
MV Agusta
·
News
·
Nicky Hayden
·
Nitro Circus
·
Oakland
·
Orange County Choppers
·
Photos
·
Playboy Playmates
·
Polaris
·
Police
·
Press Release
·
Pro Supercross
·
Product Review
·
Product Reviews
·
Promo Models
·
R1
·
Race Results
·
Race Schedule
·
Racing
·
Racing News
·
Racing Results
·
Rally Racing
·
Recall
·
Recalls
·
Ricky Carmichael
·
Riders
·
Rocky Point Bike Rally
·
Ryan Dungen
·
Ryan Dungey
·
Ryan Villopoto
·
Safety
·
San Diego
·
Sand Dunes
·
Season Standings
·
Seattle
·
Sex
·
Southwest
·
Southwick
·
Sportbike
·
Sportbikes
·
Spring Creek
·
St. Louis
·
Stoppie
·
Stunt
·
Stunt video
·
Stuntbike
·
Sturgis
·
Sturgis 2012
·
Superbike
·
Supercross
·
Suzuki
·
Team USA
·
Travis Pastrana
·
Trey Canard
·
TV
·
Unadilla
·
Victory
·
Victory Motorcycles
·
Video
·
Wheelie
·
WMX
·
Women Riders
·
World Record
·
World Superbike
·
XDL
·
Yamaha
·
Categories
AMA Superbike
AZ Biker Info
Drag Racing
Event Postings
Friends That Ride
Grease Monkey
Humor, Jokes, Comics etc
Law Tigers
Motocross
MotoGP
Motorcycle News
Motorcycle Videos
Product Reviews
Quaker Steak and Lube
Sportbike
Stuntbike
Supercross
Top Photographers
Vickery Motorsports
Videos
World Superbike