By FTR on August 02, 2012 6:56 PM

Brian Schaefer/Powerband FilmsAlex Harvill lands his 425-foot jump at Royal City, Wash., and believes he can go farther.
On May 12, 19-year-old motocross racer Alex Harvill blasted past Robbie Maddison's 392-foot motocross distance jump record and Ryan Capes' previous 391-foot mark -- as well as snowmobile rider Levi LaVallee's 412-foot record -- while filming at Steve Eilers' Toes MX Park in Royal City, Wash., pushing the new distance mark to an astounding 425 feet. Then he managed an even more incredible feat: keeping the jump a secret until now.
"I've been racing on and off my whole life, but this really did come out of nowhere," Harvill said. "It's been an awfully big secret to be sitting on."
The first published photos of Harvill's jump hit stands this week in the September/October issue of the Australian magazine Freerider MX, and footage shot by Jay Schweitzer of Powerband Films and Mike McEntire of Mack Dawg Productions will be featured in their six-years-in-the-making distance jump documentary (code name: "The Daredevil Project") due out in 2013. Because Harvill is a mostly unknown rider without support from major sponsors, Eilers and Schweitzer urged him to hold out for a big reveal.
"When you see somebody with that much talent and bike control and confidence, it's hard not to get behind him and give him all the support you can to help him meet his potential," Eilers told ESPN.com.
Eilers and his friend Derek McEntire provided the bike and helped set up the ramp and landing for Harvill, a family friend who grew up riding with Eilers' nephew. "If we hadn't had a headwind that day and he could have hit his top speed of about 108 mph, I think he probably could have jumped at least 460 to 470 feet with the setup we have now. To get to 500 is going to take some work, but that's where he wants to take it."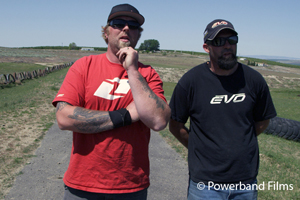 Photo courtesy Powerband Films from the upcoming release "The Daredevil Project," www.powerbandfilms.com.Steve "Toes" Eilers, right, and Derek McEntire survey the scene they made possible for Alex Harvill's record jump.
Eilers, who had served as host for several of Capes' world-record jumps, recently had a Boeing engineer help him design a patented new takeoff ramp for a big jump of his own he'd been planning. Harvill first started messing around on the ramp in February while he was training for this year's race season, reaching as far as 266 feet before Eilers suggested calling in Schweitzer and McEntire to document any bigger jumps properly. According to Freerider MX magazine, Eilers had a survey crew measure the jump distance accurately.
"Alex has put himself into the ranks of Robbie Maddison, Ryan Capes, and Jason 'Bird' [Sinkpiel] in his first attempts at distance jumping, and filming Alex when he went 425 feet was surreal," McEntire said. "He did not even do a speed run! Got on the bike first thing in the morning, turned the corner, and pointed it with his throttle pinned … He wanted to keep jumping but Toes, Jay, Derek and I had to convince him to wait until the world got this news before he went for another record."
Schweitzer -- best known for his ongoing series of "On the Pipe" FMX films as well as this year's Metal Mulisha film "Black Friday" and the freeride film "Twitch's 420% All Natural" -- said he sees Harvill as the future of distance jumping.
"Alex had a 354-foot clear gap, which is the largest ramp gap in history, and that was probably the gnarliest, scariest thing I had ever witnessed, let alone put my eye behind the lens and film," Schweitzer said. "Now they've got some top-secret bike with a crazy motor they've been working on. … I think we'll see him go far past 500 in the next few years."
Be sure to check out this interview with Alex Harvill for another in-depth, behind-the-scenes look at the set up for this record-breaking jump.
SOURCE: http://espn.go.com/action/fmx/story/_/id/8181746/alex-harvill-sets-motorcycle-jump-record
By FTR on July 25, 2012 6:37 PM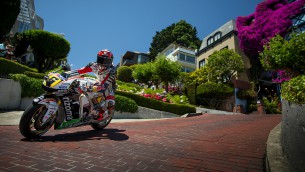 LCR Honda MotoGP's Stefan Bradl took to San Francisco's infamous Lombard Street and Treasure Island with his Honda RC213V yesterday as he prepared for the upcoming Red Bull U.S. Grad Prix at Laguna Seca this weekend.
As part of a Red Bull promotional video, the German rookie delighted crowds in true MotoGP fashion, as he wheeled his way around Treasure Island, before bringing a hefty exhaust note to the usually quaint Californian town, winding his way down twisty Lombard Street, much like he will at "The Corkscrew" come Friday.
Later in the afternoon he was joined by LCR team owner Lucio Cecchinello to take part in a conference held at the prestigious Stanford University, labelled "Embracing Risk in the Pursuit of Victory". It was a discussion about the balance between embracing risk and protection for safety, highlighting the advancements made by man and machine in one of the fastest forms of motorsports. Watch the full video of the discussion and view photos from the event on Google+ Hangout.
SOURCE: http://www.motogp.com/en/news/2012/Bradl+San+Francisco+preevent
By FTR on July 24, 2012 11:55 PM
AURORA, Ill. (July 23, 2012) – Feld Motor Sports® announced today that GIECO Honda's Kevin Windham, of Centerville, Miss., will race the second annual Monster Energy Cup at Las Vegas Sam Boyd Stadium on October 20.
Windham, 34, has been racing professionally for 19 years, is a Western Regional Supercross Lites Class Champion and has finished runner-up in the Supercross Class three times. During the 2012 Monster Energy Supercross Championship Windham was fifth in point standings before suffering an injury at Houston that ended his season. The winner of 18 Supercross Class Main Events, Windham has amassed 203 starts and 75 podium finishes.
SOURCE: http://www.supercrossonline.com/News/Headlines/2012/07/23/2/
By FTR on July 16, 2012 6:20 PM
Ryan Dungey and Eli Tomac were the big winner's in Saturday's Lucas Oil AMA Pro Motocross event at Spring Creek MX Park in Millville, Minnesota. Ryan also extended his series points lead in the 450 Motocross class, and Blake Baggett retained his points lead in the 250 MX Lites class. Below is the highlight video, courtesy MX Sports.

For results, points and more from "Spring Creek" race, click here.
SOURCE: http://www.supercross.com/news/2012-lucas-oil-millville-spring-creek-ama-pro-motocross-highlight-video
By FTR on July 15, 2012 10:30 PM
THE ASSOCIATED PRESS MUGELLO, Italy -
World championship leader Jorge Lorenzo of Spain dominated the Italian Grand Prix on Sunday, coming from second on the grid to beat compatriot Dani Pedrosa. Lorenzo overtook Pedrosa to take the lead on the first turn and remained in front to cruise to a commanding fifth victory of the season.
Pedrosa was 5.223 seconds behind. Andrea Dovizioso of Italy was third, 10.665 seconds behind Lorenzo. Lorenzo, the 2010 world champion, extended his lead at the top of the standings to 19 points.
Defending world champion Casey Stoner had a miserable race, and finished eighth, more than 30 seconds behind Lorenzo.
Home favourite Valentino Rossi was fifth.

SOURCE: http://www.sportsnet.ca/autoracing/2012/07/15/moto_italian_grand_prix_jorge_lorenzo_cruises/
By FTR on July 14, 2012 7:04 PM
Brandon Short checks in from Millville to preview this afternoon's AMA Motocross action in Minnesota.
After a night of rain, the track at Spring Creek MX Park is in pristine condition for today's National. And as the day wears on, the track is getting faster and faster.

As practice wraps up some familiar names are sitting atop the charts. With the late news that James Stewart would forego the next two rounds and set his sights on Southwick in August, the attention focused even more firmly on current championship leader Ryan Dungey, who is not only seeking his fifth straight victory this season, but also his fifth consecutive at his hometown track in Millville.

Dungey hasn't lost at Spring Creek since 2008 on a 250cc bike; he will not doubt be the favorite today, especially after posting the fastest lap in the 450 Class at a 2:08.292. Mike Mike Alessi followed in second, seven tenths back (2:08.942), while Jimmy Albertson proved to be the surprise of the division with the third-quickest lap (2:09.606).

As a reference, the first 450 Class practice, which was also paced by Dungey, was headed by a time of 2:15.281. The track picked up seven seconds from one session to the next and is sure to get even quicker as it continues to dry out under sunny skies.

In 250 Class action, Ken Roczen took a step toward that elusive first win by setting the tone in the smaller displacement. Roczen's 2:08.150 was the fastest of all riders in the morning sessions, which proved to be further indicator of the track's improving conditions. Eli Tomac followed close behind (2:08.345), while Marvin Musquin completed the KTM sandwich in third (2:09.027).

Musquin was fastest in the first session for the 250 Class with a time of 2:11.914. The pair of KTM World Champions are threatening to take their American counterparts head on this afternoon.

And where was points leader Blake Baggett? He posted just the sixth quickest lap, but I expect him to race very well this afternoon.

Tyla Rattray won here as a 250 Class rider a year ago and with one race under his belt aboard the 450, he could be someone to keep an eye on this afternoon. Rattray posted the sixth-fastest lap in the premier class but is always known for being a hard charger once the gate drops. He'd be my dark horse pick to podium, maybe even giving the likes of Alessi, Jake Weimer, and Broc Tickle a run for a possible runner-up effort. And ane thing is for sure, should Dungey somehow happen to falter, there is a hungry pack of riders behind him ready to take advantage.

The parity of the 250 Class could also return to the forefront today. We already know that Justin Barcia and Tomac are determined to slow Baggett's roll. Jason Anderson threw his name into the mix with the fourth-quickest lap in practice and should he get a good start, could end up being a wild card as well.

It's shaping up to be a great day of action on one of the riders' favorite tracks. The infamous sand whoops and the evolving track conditions will play a major role in the outcome of the motos, and we'll see who emerges on top at the end of the day.
SOURCE: http://moto-racing.speedtv.com/article/ama-mx-spring-creek-race-day-update/
By FTR on July 10, 2012 5:05 PM
Feld Motor Sports announced today that the 2010 Monster Energy AMA Supercross, an FIM World Championship, Supercross Class champion Ryan Dungey, of Belle Plaine, Minn., will race the 2012 Monster Energy Cup at Las Vegas' Sam Boyd Stadium on October 20. (This will be the second ever Monster Energy Cup, held in Las Vegas, on a hybrid supercross / motocross track.)
At last year's Monster Energy Cup, Dungey made his Red Bull KTM debut after spending five years with the Factory Suzuki team, where he captured every major AMA Championship. Dungey was a late entry to last year's Monster Energy Cup line up, making the announcement that he would compete just two days before the race. En route to second overall, Dungey finished 3-2-2 last year.
"Coming into last year's Monster Energy Cup, I was really excited about it," said Dungey. "It was a quick decision we made - kind of last minute - but it was something different. The format was a little different and you had a million dollars up for grabs. The first year of the competition was a success."
FULL ARTICLE: http://www.supercross.com/press-release/ryan-dungey-to-race-2012-monster-energy-cup-in-las-vegas
By cpFTR9 on July 08, 2012 1:41 PM
Source: espn.go.com/action
BUCHANAN, Mich. -- Ryan Dungey raced to his fourth consecutive AMA Pro Motocross victory, sweeping the 450 Class motos Saturday at RedBud USA.
Dungey, the Red Bull KTM star from Belle Plaine, Minn., increased his lead in the season standings to 72 points over Suzuki's Mike Alessi.
Dungey has swept the motos in his four consecutive victories. Justin Brayton, the Team Honda Muscle Milk rider from Fort Dodge, Iowa, was second overall, finishing third in the first moto and fourth in the second. Team Yoshimura Suzuki's James Stewart, from Haines City, Fla., was third overall in his return to action. He was sixth in the first moto and third in the second.
"Having James [Stewart] back this week was good to add another challenge, and it's good for the sport," Dungey said. "We made some more changes to the bike coming into [today] and I think we've made even more progress. My starts were good and I knew getting out front would make life easier, having a whole track to work with. It's [too] early to think points, but you've got to be smart. With James back, you knew he'd be there, so I didn't want to downplay him. I just wanted to get a good start and see how things played out."
In the 250 Class, Kawasaki's Blake Baggett, from Grand Terrace, Calif., raced to his third victory of the season, also sweeping the motos.
"This track is one of the best on the schedule, it has a little bit of everything," Baggett said. "There's no formula to the way I ride. It just happens. I had a pitiful start in the first moto and fought my way through the pack. I got a good start in the second moto and just tipped it over. I looked at lines to see where I could pick up ground and I just took a shot [at the lead] when I had a chance."
In the Women's Motocross Championship event, Team Honda Muscle Milk's Ashley Fiolek, from St. Augustine, Fla., swept the motos for her second win of the season. Fiolek, who had to skip racing at X Games because of a concussion, hadn't raced since crashing June 2 at Thunder Valley in Lakewood, Colo.
Rockstar Energy Racing Suzuki's Jessica Patterson of Tallahassee, Fla., finished 14th after breaking her hand last week but remains the WMX overall leader by nine points over second-place Tarah Gieger and 26 points over Fiolek.
AMA Pro Motocross, RedBud MX Track, Buchanan, Mich., July 7, 2012: 450 Class
| | |
| --- | --- |
| Rank | Name (moto finish) |
| 1 | Ryan Dungey, Belle Plaine, Minn., KTM (1-1) |
| 2 | Justin Brayton, Ft. Dodge, Iowa, Honda (3-4) |
| 3 | James Stewart, Haines City, Fla., Suzuki (6-3) |
| 4 | Tyla Rattray, Durban, South Africa, Kawasaki (4-5) |
| 5 | Mike Alessi, Victorville, Calif., Suzuki (11-2) |
| 6 | Broc Tickle, Holly, Mich., Kawasaki (5-9) |
| 7 | Cole Thompson, Brigden, Ontario, Honda (7-8) |
| 8 | Josh Grant, Riverside, Calif., Kawasaki (9-7) |
| 9 | Andrew Short, Smithville, Texas, Honda (12-6) |
| 10 | Jake Weimer, Rupert, Idaho, Kawasaki (2-20) |
AMA Pro Motocross, RedBud MX Track, Buchanan, Mich., July 7, 2012: 250 Class
| | |
| --- | --- |
| Rank | Name (moto finish) |
| 1 | Blake Baggett, Grand Terrace, Calif., Kawasaki (1-1) |
| 2 | Justin Barcia, Monroe, N.Y., Honda (2-2) |
| 3 | Eli Tomac, Cortez, Colo., Honda (5-3) |
| 4 | Marvin Musquin, La Reole, France, KTM (4-4) |
| 5 | Ken Roczen, Apolda, Germany, KTM (3-6) |
| 6 | Wil Hahn, Decatur, Texas, Honda (6-5) |
| 7 | Gareth Swanepoel, Johannesburg, South Africa, Yamaha (9-7) |
| 8 | Blake Wharton, Pilot Point, Texas, Suzuki (7-12) |
| 9 | Jessy Nelson, Paso Robles, Calif., Honda (12-9) |
| 10 | Travis Baker, Temecula, Calif., Honda (11-10) |
AMA Pro Motocross, RedBud MX Track, Buchanan, Mich., July 7, 2012: WMX Class
| | |
| --- | --- |
| Rank | Name (moto finish) |
| 1 | Ashley Fiolek, St. Augustine, Fla., Honda (1-1) |
| 2 | Sara Pettersson, Sweden, KTM (3-4) |
| 3 | Tarah Gieger, Aguadilla, Puerto Rico., Honda (2-6) |
| 4 | Kasie Creson, Vallejo, Calif., Honda (5-3) |
| 5 | Jacqueline Strong, Sedona, Ariz., KTM (4-5) |
| 6 | Mariana Balbi, Belo Horizonte, Brazil, Honda (14-2) |
| 7 | Alexah Pearson, Sacramento, Calif., KTM (6-7) |
| 8 | Sarah Whitmore, Cheboygan, Mich., KTM (7-8) |
| 9 | Sade Allender, Sanford, Maine, Honda (8-9) |
| 10 | Brianna DeGray, Springfield, Mass., KTM (9-10) |
Source: espn.go.com/action
By cpFTR9 on July 01, 2012 2:21 PM
Saturday, June 30, 2012
by Bryon Wilson for motorcycle-usa.com
Kawasaki Racing's Tom Sykes is not letting up in the fight for his first World Superbike win in dry conditions. The British rider took his sixth pole position of the season at Aragon on Saturday, finishing ahead of current championship points leader Max Biaggi of Aprilia Racing by 0.708 seconds. Biaggi's teammate Eugene Laverty posted the third-fastest time while rounding out the front row is BMW Motorrad's Leon Haslam in fourth.

Heading up the second row is Haslam's teammate Marco Melandri in fifth followed by Honda's Jonathan Rea in sixth, Althea Racing's Carlos Checa and ParkinGo's Chaz Davies in seventh and eighth respectively.

Sykes started off the string of three Superpole sessions well within the group to move ahead, but by no means the fastest. Checa posted the top time in Superpole 1 with Biaggi and Melandri following in tow. Conditions similar to Friday's practice and timed sessions made for a relatively safe Superpole, with Lorenzo Zanetti of PATA Racing the only rider to go down.

In SP2, it was Melandri who picked up his pace to top the timesheet, with Biaggi holding steady in second and Laverty up to third. In SP3 though it was Tom Sykes who went on to post a track best 1'56.552 which made him the only rider on the grid to dip below the 1'57's. Last year the Kawasaki rider took fifth place in Race 1 and crashed in Race 2.

"Another pole position is fantastic," said Sykes. "I wish we got points for pole position but we don't. I think the forecast is for weather conditions to be a little bit cooler tomorrow which will make the racing faster for everybody. We will see what happens, because there were five guys who are looking fairly strong."

With two Aprilia's on the front row as well, Sykes has his work cut out for him if he hopes to hold the lead out of the start. Biaggi is coming off a double win at Misano and feels confident on the track at Aragon. "This second place comes after some good test sessions which placed us consistently in the top five. I like this track. We were fast here last year as well, so it's a shame about first place, but Tom was really faster than anyone else. I think tomorrow will be a battle."

Laverty has two third-place finishes to his credit in 2012 and finished sixth at Aragon last year. He and his Aprilia team have been addressing issues which have plagued him over the past few races. "The first row is definitely a good result but the most satisfying thing is the pace we've demonstrated during all the practice sessions," Laverty explained after the sessions. "We did some work on the bike to solve the problems we had during the last few races and for the moment the results are quite encouraging. Things will be complicated tomorrow, but starting from the front is always an advantage, especially when there are several riders with a similar race pace."

World Superbike Aragon Superpole Results 2012:
1. Tom Sykes (Kawasaki) 1'56.552
2. Max Biaggi (Aprilia) 1'57.260
3. Eugene Laverty (Aprilia) 1'57.592
4. Leon Haslam (BMW) 1'57.710
5. Marco Melandri (BMW) 1'57.784
6. Jonathan Rea (Honda) 1'58.033
7. Carlos Checa (Ducati) 1'58.243
8. Chaz Davies (Aprilia) 1'58.485
9. Sylvain Guintoli (Ducati) 1'58.073
10. Ayrton Badovini (BMW) 1'58.249
11. Davide Giugliano (Ducati) 1'58.249
12. Jakub Smrz (Ducati) 1'59.160
13. Michel Fabrizio (BMW) 1'58.534
14. Leon Camier (Suzuki) 1'58.660
15. Loris Baz (Kawasaki) 1'59.302
16. Lorenzo Zanetti (Ducati) 1'59.549
17. David Salom (Kawasaki) 1'59.474
18. Hiroshi Aoyama (Honda) 1'59. 686
19. Niccolo Canepa (Ducati) 1'59.811
20. Maxime Berger (Ducati) 2'00.164
21. John Hopkins (Suzuki) 2'00.245
22. Leandro Mercado (Kawasaki) 2'00.975
23. Norino Brignola (BMW) 2'03.823

In World Supersport, PTR Honda's Jules Cluzel posted the top time, barely edging out Kawasaki Lorenzini's Sheridan Morais who came in second. Morais' teammate and current points leader Kenan Sofuogl will start from third position and Kawasaki Intermoto Step's Fabien Foret rounds out the front row. This is Cluzel's second pole position of the season, with the first coming at Donington where he went on to take third place. The French rider trails Sofuoglu by 22 points in second overall and is looking to score his second win of the season at Aragon.
World Supersport Aragon Superpole Results 2012:
1. Jules Cluzel (Honda) 2'02.624
2. Sheridan Morais (Kawasaki) 2'02.665
3. Kenan Sofuoglu (Kawasaki) 2'02.804
4. Fabien Foret (Kawasaki) 2'02.882
5. Sam Lowes (Honda) 2'02.892
6. Broc Parkes (Honda) 2'02.895
7. Vittorio Iannuzzo (Triumph) 2'03.451
8. Jed Metcher (Yamaha) 2'03.701
9. Romain Lanusse (Kawasaki) 2'03.752
10. Mathew Sholtz (Honda) 2'03.773
11. Ronan Qarmby (Honda) 2'03.819
12. Alex Baldolini (Triumph) 2'03.993
13. Valentin Debise (Honda) 2'04.027
14. Joshua Day (Kawasaki) 2'04.155
15. Roberto Tamburini (Honda) 2'04.220
By cpFTR9 on July 01, 2012 1:58 PM
LOS ANGELES -- At long last, Mike Mason has an X Games gold medal. And he beat one of the most successful Moto X competitors in history to get it.
Mason, who'd come up just short in his previous six X Games appearances, edged Nate Adams in a rematch of last year's Speed and Style final Saturday night at the Staples Center. He used his racing background to cross the finish line 2.8 seconds ahead of Adams and overcome a 1.33-point lead Adams had built on the jumps.
"It was perfect," Mason said. "I wanted to go up against Nate again and try and win it. You want to have the hardest guy in there."
Adams certainly qualifies, though he's still far from full strength after a shoulder injury wiped out most of his last year of competition. Since sweeping the Freestyle and Speed and Style gold medals last year, he's struggled to regain the form that made him the most consistent rider in the world. Still, by earning silver Saturday, he tied Travis Pastrana for the most Moto X medals in X Games history with 13.
Mason grabbed the holeshot down the ramp and gradually built his lead throughout the four-lap race, sticking his tricks in the process. When he landed a huge Holy Grab and Adams missed his no-handed backflip off the final jump, the gold was all but his. He won 92.8 to 91.33.
For Adams, this week's competitions (he took fourth in Freestyle on Thursday night) were his first in 10 months, and he was happy just to be in action. "The shoulder is not close to 100 percent," he said. "I just kind of learned how to ride around the injury. The accomplishment is that two months ago, I was sitting on the couch, not riding and not knowing if I would have my sponsors after this weekend. So to be able to come here and prove to myself, first and foremost, that I can still ride and be the person I used to be on a bike -- it's a really personal thing for me."
Veteran Edgar "ET" Torronteras of Spain crashed hard in his semifinal heat as he and Adams soared through side-by-side backflips. He was taken off via stretcher, leaving Ronnie Faisst to claim an uncontested bronze medal -- his third straight in Speed and Style.
Just one heat prior, Torronteras had eliminated motocross pioneer Carey Hart, who was making his farewell X Games appearance 11 years after he first competed.
"Obviously, I would've hoped to advance," Hart said, "but I had so much fun and I enjoyed every step of the way, from autograph signings to practice with the guys to talking a bunch of smack between sessions. That's the stuff I'm going to miss. It's awesome being out there riding, but I'm in one piece and I'm going to have a beer with my daughter and wife."
Source: espn.go.com/actionsports/xgames
Tags
2-Stroke
·
2011
·
2012
·
2012 Dakar
·
250
·
450
·
Acquisition
·
AMA
·
AMA National Enduro
·
AMA Pro Motocross
·
AMA Pro Supercross
·
AMA Superbike
·
AMA Supercross
·
Aprilia
·
Arizona
·
ATV
·
Auction
·
AZ Bike Week
·
Bike Rally
·
Bike Show
·
Biker
·
Biketoberfest
·
Bill Dixon
·
BMW
·
Burnout
·
Casey Stoner
·
Celebrities who Ride
·
Chad Reed
·
Classic
·
Colorado
·
Concept
·
Contest
·
Crash
·
Crotch Rocket
·
Custom
·
Daytona
·
DIY
·
DOT
·
Ducati
·
Electric Motorcycle
·
Eli Tomac
·
Europe
·
Events
·
Final Results
·
France
·
FTR
·
Fundraiser
·
Fundrasier
·
Funny
·
Glamis
·
GoPro
·
Grindingstone MX Park
·
Hangtown
·
Harley Davidson
·
Hoka Hey
·
Honda
·
Humor
·
Husqvarna
·
Ian Trettel
·
Ice
·
Illegal
·
Indian
·
Indianapolis
·
injury
·
Injury Report
·
ISDE
·
Ivan Tedesco
·
James Stewart
·
Justin Barcia
·
Kawasaki
·
Ken Block
·
Kids OHVs
·
KTM
·
Laguna Seca
·
Lake Havasu
·
Lane Splitting
·
Larry Pegram
·
Las Vegas
·
Law Tigers
·
License Plate
·
Los Angeles
·
Minnesota
·
Monster
·
Monster Energy Cup
·
Moto GP
·
Moto Guzzi
·
Motocross
·
Motocross of Nations
·
Motocross School
·
MotoGP
·
Motorcycle Art
·
Motorcycle Chase
·
Motorcycle Laws
·
Motorcycle news
·
Motorcycle Racing
·
Motorcycle Safety
·
Motorcycle Shows
·
Motorcycles
·
Movie-star Motorcycle riders
·
MV Agusta
·
News
·
Nicky Hayden
·
Nitro Circus
·
Oakland
·
Orange County Choppers
·
Photos
·
Playboy Playmates
·
Polaris
·
Police
·
Press Release
·
Pro Supercross
·
Product Review
·
Product Reviews
·
Promo Models
·
R1
·
Race Results
·
Race Schedule
·
Racing
·
Racing News
·
Racing Results
·
Rally Racing
·
Recall
·
Recalls
·
Ricky Carmichael
·
Riders
·
Rocky Point Bike Rally
·
Ryan Dungen
·
Ryan Dungey
·
Ryan Villopoto
·
Safety
·
San Diego
·
Sand Dunes
·
Season Standings
·
Seattle
·
Sex
·
Southwest
·
Southwick
·
Sportbike
·
Sportbikes
·
Spring Creek
·
St. Louis
·
Stoppie
·
Stunt
·
Stunt video
·
Stuntbike
·
Sturgis
·
Sturgis 2012
·
Superbike
·
Supercross
·
Suzuki
·
Team USA
·
Travis Pastrana
·
Trey Canard
·
TV
·
Unadilla
·
Victory
·
Victory Motorcycles
·
Video
·
Wheelie
·
WMX
·
Women Riders
·
World Record
·
World Superbike
·
XDL
·
Yamaha
·
Categories
AMA Superbike
AZ Biker Info
Drag Racing
Event Postings
Friends That Ride
Grease Monkey
Humor, Jokes, Comics etc
Law Tigers
Motocross
MotoGP
Motorcycle News
Motorcycle Videos
Product Reviews
Quaker Steak and Lube
Sportbike
Stuntbike
Supercross
Top Photographers
Vickery Motorsports
Videos
World Superbike